The Bay of Plenty & Coromandel have an abundance of beautiful beaches – from secluded rock & tree lined coves to vast white sand beaches bordered by sear cliff faces or rolling sand dunes & tussock. If a ceremony by the sea is what you're after, you are sure to find just the right spot.
Most of these areas are public spaces (unless they are on private land) & you are freely able to use & enjoy them for your ceremony.  Just remember that these are public spaces – whilst most people will be respectful of your gathering, you cannot exclude them from entering the area surrounding your ceremonial space.  Pick your spot & / or pick your time, so there is less chance that the area will be busy, or in use for another event.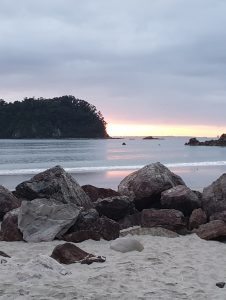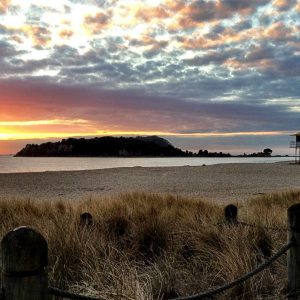 Very popular with Kiwi & international travellers, Mount Maunganui Beach has a multitude of beach & grass reserve areas ideal for wedding ceremonies.  From small rocky coves at the foot of Mount Mauao, to the vast stretch of beach all the way down to Papamoa – there's a patch with your name on it.  The Mount shopping village is delightful, boasting dozens of cafes restaurants & bars.  There are many accommodation choices, from just the basics motor camp cabins, to absolute beach-front luxury houses & high-rise apartments – the Mount has it all.  Main-beach is tranquil at dawn & provides an ideal spot for a beautiful sunrise ceremony.
Pilot Bay & Mauao Beaches
On the inner harbour side of Mount Maunganui peninsula, is the tranquil, beauty of Pilot Bay.  Lined with mature Norfolk Pines, this harbourside beach offers a bit more shelter if the Main Beach side is a bit busy or windy.  The full walk around the Mt takes about 45 – 50 minutes.  Within just 5 – 10 minutes form the Pilot Bay starting point there is a small stone jetty & several lovely little coves, bays & beaches, each an ideal location for small gatherings.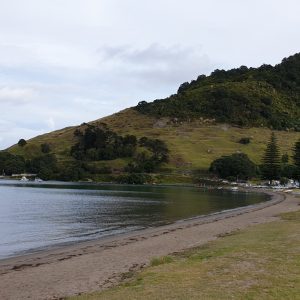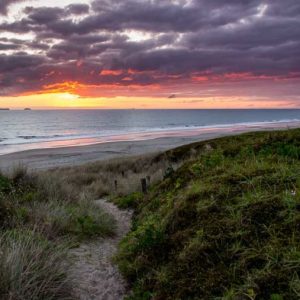 There's a lot of beach between the Mount & Papamoa.  Lot's of space to set up an intimate beachside ceremony.  There are beachfront BnBs, batches & luxury houses available for rent all the way along the beach.  A beautiful spot for a sunrise walk on the beach before the ceremony.
Maketu, a small Eastern Bay village about 30 minutes from Tauranga, with a beautiful estuary & a fabulous, feature packed beach, is also rich in ancestral Maori culture.  Just a short stroll down the beach you will find yourself almost entirely alone on a long, sandy beach, heavily strewn with large & small rocks of striking colours, cliff faces & a large sheltered pool at low tide.  Hilltop & beach front holiday camp cabin rentals are available here.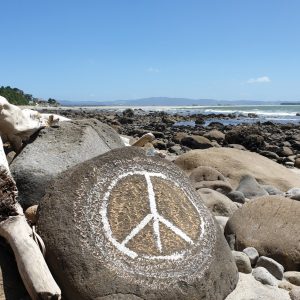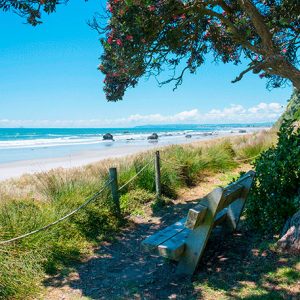 If you're after raw, untouched coastal beauty, Newdicks Beach on the other side of the Maketu Peninsular is a real treat.  Even more secluded, this beautiful beach features white sand, rocks on the beach & dramatic cliffs.  Newdicks Beach is only accessible via a  private private road, for which there is a $5 per car fee.  There are no amenities here, just gorgeously, unspoiled beach, ocean & plenty of fresh sea air.  Quirky Woods BnB is just 10 minutes' walk from Newdicks Beach. 
Pukehina is a small, relaxed & unpretentious village just 35 minutes from Tauranga airport.  With a long, sweeping, white sand, ocean beach on one side & a sheltered estuary on the other.  There are beachfront BnBs, batches & houses available for rent all the way along the beach & estuary.  Some are ideal locations for a small ceremony, or pick a spot on the beach or the Dotterel Point estuary reserve.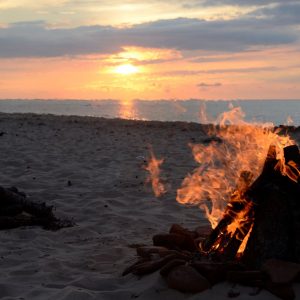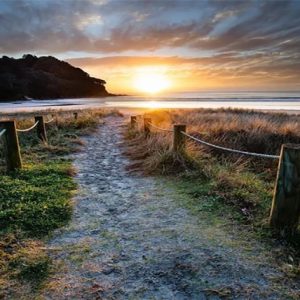 Waihi Beach is bustling beachside village of boutique shops & eateries, set alongside a 9km stretch of inviting white sand, rolling surf beach.  If your ideal honeymoon is catching some waves on one of New Zealand's safest surf beaches, or walking a beautiful coastal track to hidden gem coves & panoramic vistas, then Waihi Beach could be the ticket.  There are loads of BnB, batch or house rental options here.
At one end of this 9-kilometre-long beach Waihi Beach, at the other is Bowentown.  There's not much here but the wild beauty of the ocean beach & shelters tranquillity of ANZAC Bay – oh, & the Bowentown Beach Holiday Park featuring lovely cabins or these super funky Kombi Cabins.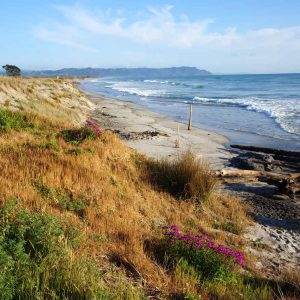 Only a few minutes from town, the inlet is picturesque & dramatic – cliff faces, rocks, sheltered pools & crashing waves.  Watched over by the Wairaka statue, also known as the Lady of the Rock, the inlet is a unique spot, tranquil during good weather – especially in the morning & evening.
From the sheltered west end cove to the wide open expanse of sea, sand & dunes in the east, Ohope has a lot to offer those looking for a beach getaway.  There's lots of beach, so finding the right spot, outside of holiday times, won't be difficult.  There are loads of BnB, batch, house or apartment rental options here.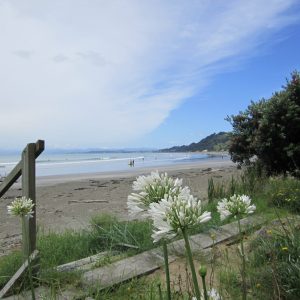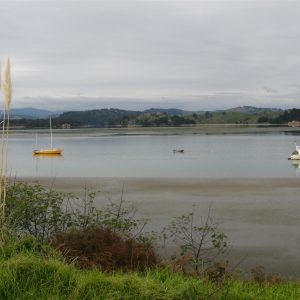 On the opposite side of the Ohope peninsular is Ohiwa harbour.  Tranquil & pretty, there are several places for intimate gatherings & a large reserve at the eastern end if you're expecting a large crowd in for a post ceremony BBQ or picnic.
Otarawairere is a hidden jewel of the Whakatane-Ohope area. This secluded beach is accessible only on foot – a 15-minute walk from West End in Ohope during low tide, but the trip is definitely worth the effort. Pohutukawa trees loom over a beach of stone & crushed seashells, while the warm waters of the Pacific lap quietly against the shore, creating an unrivaled, peaceful atmosphere.