In New Zealand most of the beautiful public parks, reserves, riverside domains & bushlands are able to be used as the location for your ceremony. All of these parks & reserves are picturesque in their own way, making them ideal for both the ceremony, photos & the reception. Tauranga & the wider Bay of Plenty, Coromandel Peninsular & the Waikato have so many beautiful parks & reserves – here's just a few.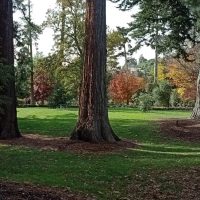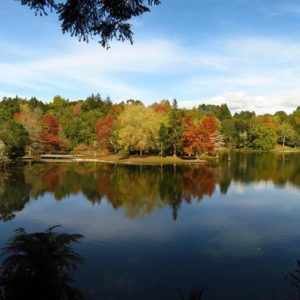 20 minutes drive from Tauranga's CBD, on state highway 29, McLaren Falls Park is a tranquil & secluded area comprising 190 hectares of pastoral & horticultural parkland, set alongside Lake McLaren. Especially spectacular in spring & autumn. The park has three designated areas for weddings or large gatherings, each able to accommodate variable numbers of guests up to a maximum of 75. The area also features waterfalls, a glow-worm grotto & overnight camping areas.
Only 7 minutes drive from Tauranga's CBD, Yatton Park in Greerton is a large suburban oasis, home to mature exotic & native trees, beautiful gardens, meandering streams, fountains, ponds & a lovely water feature.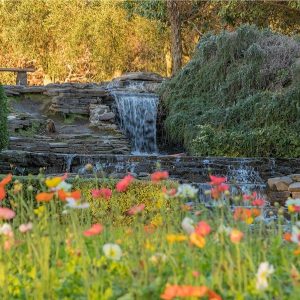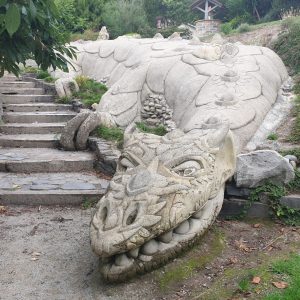 I love Te Puna Quarry Park. Just 20 minutes from the Tauranga CBD, on state highway 2, this park offers so much variety in such a wonderfully compact area. It is a magical place, created from a disused quarry & transformed into a world class park. The park enjoys panoramic views out over the Bay, gardens of infinite variety, native & exotic trees, loads of different shelters, nooks & themed spaces, a magnificently, patinated vintage diesel-engine shovel & a dragon. There is also a small reception hall available for hire.  Click here for more photos.
Kulim Park, just 7 minutes drive from Tauranga's CBD, is a beautiful north facing, waters edge park in Otūmoetai.  Dotted with beautiful mature trees – including magnificent pohutukawa, free gas barbecues & wonderful views across the harbour to Rangiwaea, Matakana Island & Mauao (the Mount).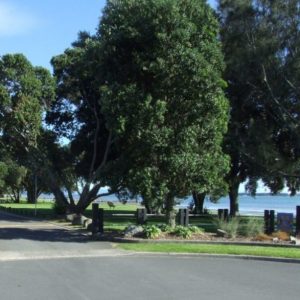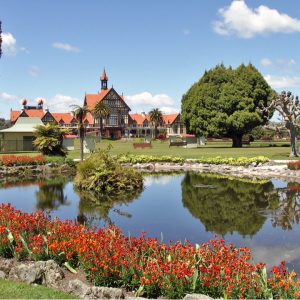 Government Gardens is one of the major parks in Rotorua's central city. Located in Hinemaru Street the Government Gardens provides a perfect backdrop to any wedding picture & certain areas are available for hire for weddings – for a nominal fee. These areas include the Klamath Falls Rose Garden, Band Rotunda, Te Runanga Tearooms & Blue Baths all located within the Government Gardens.
On the fringe of Rotorua CBD, Kuirau Park is a uniquely Rotorua experience – with many geothermal features & several picturesque areas. There are a number of geothermal ponds, steaming mud pools, hot springs, a wisteria-covered bridge, extensive manicured lawns & a free natural hot spring foot bath to soak your feet in when the hard work is done.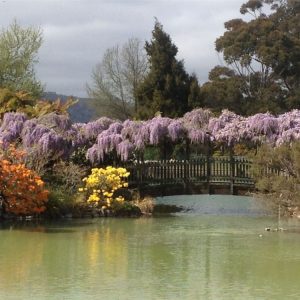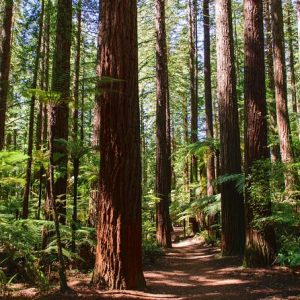 The Internationally renowned Whakarewarewa & Redwood forest park covers more than 5600 hectares.  Full of walking, hiking, mountain biking & horse riding trails – this park is a national treasure.  The park features a large area of mature (over 100 years old) Californian Coastal Redwoods. These towering trees, along with numerous other species & the fresh forest air, combine to create an invigorating atmosphere & a truly unique & special environment.
There are specific event areas that can be hired for a full on, everything-laid-on, magical wedding event, but it's also an ideal spot for a quiet registry-style or elopement ceremony – especially when combined with the magic of the Treewalk & The Forest Nightlights.
Just 6 minutes from Rotorua CBD, Centennial Park is a beautiful memorial park reserve, situated on the slopes of Tihiotonga.  Encompassing 20 hectares of rolling land & steep gullies, the area has been beautifully planted, but not over manicured.  The trees put on a magnificent show in Spring & Autumn whilst providing shade in the summer & there is a Maple grove & beautiful pond too.  An ideal, quiet location for a small gathering with a casual picnic or BBQ reception.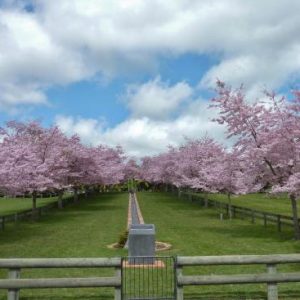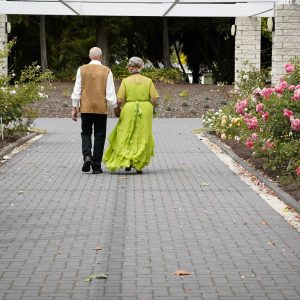 Murray Linton Rose Gardens
Murray Linton Rose Gardens, just a few minutes out of town, is a step back into the 70s – the quintessential rose garden with manicured roses a large walk-through pergola, an expansive open lawn area & a very photogenic, gnarly old tree.  A nice small suburban park for a ceremony & photos.
Situated on the outskirts of town, the Gardens is a beautiful, suburban oasis. A formal entrance gives way to rose gardens, a scented garden, mature trees & open lawn areas. An amphitheatre is used as a venue for plays & concerts during the summer & cultural events.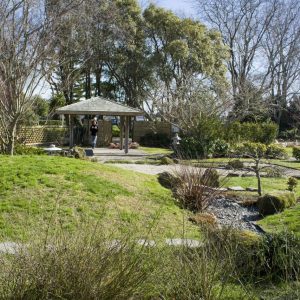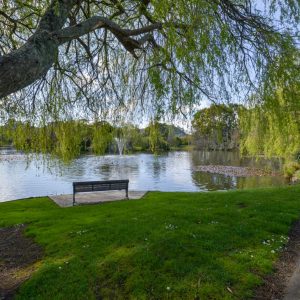 Right on the edge of Waihi township is beautiful Gilmour Lake Reserve.  A lake, a fountain, mature trees – a beautiful spot any time of year.